Nikon D3X 24.50 Megapixel Full Frame DSLR camera – first test pictures online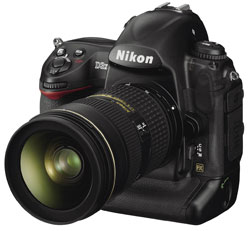 Nikon D3X DSLR
Imaging Resource has been able to get their hands on the new flagship DSLR from Nikon, the Nikon D3X. This full frame DSLR has a massive 24.5 megapixel sensor and everything else that a professional photographer should need.
Imaging Resource has posted the first test pictures on their website. The website has taken some Multi target, Still Life and Viewfinder Accuracy shots to give us some samples on what to expect from the Nikon D3X. They are all studio shots and give an indication what we can expect from the Nikon D3X.
I can not wait to see the first real reviews of this exciting new full frame DSLR hit the internet.