Nikon Coolpix S630 compact camera review / test by Digital Camera Resource Page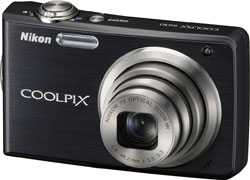 Nikon Coolpix S630
Digital Camera Resource Page has reviewed the Nikon Coolpix S630 compact camera. This Nikon camera features a 12 megapixel sensor and a 7x optical zoom lens.
Some key features for the Nikon Coolpix S630:
-12 megapixel sensor
-7x optical zoom (37 – 260mm)
-2.7″ LCD screen
-44MB of built-in memory
Digital Camera Resource Page ends up giving the Nikon Coolpix S630 camera a not so good rating as the photo quality the camera is able to produce is not the best. The Nikon camera focuses slowly in low light and is noisy at higher ISO levels.
On the positive side you get a 7x optical zoom lens in a very compact body and accurate colors in your pictures.
Read the full review of the Nikon Coolpix S630 digital camera here.