Nikon Coolpix P90 test / review by Camera Labs – 3 inch tilting screen and 24x optical zoom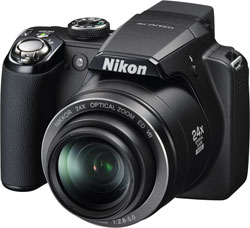 Nikon Coolpix P90
Camera Labs has reviewed the Nikon Coolpix P90 digital compact camera. This Nikon has some really impressive specifications with a 24 optical zoom lens, 12 megapixel sensor and a big 3″ LCD screen that is tiltable.
Some key features for the Nikon Coolpix P90:
-24x optical zoom (26mm – 624mm)
-12.1 megapixel sensor
-3″ tilting LCD screen
-47MB of built-in memory
-Image stabilization
Camera Labs ends up giving the Nikon Coolpix P90 camera a fairly decent rating as the camera as there are other camera models on the marked that takes better pictures, such as Canon's PowerShot SX10 IS and Panasonic's Lumix DMC-FZ28.
Read the full review of the Nikon Coolpix P90 compact here.