Nikon Coolpix L20 digital compact camera test / review by Camera Labs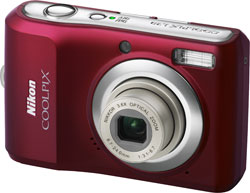 Nikon Coolpix L20
Camera Labs has reviewed the Nikon Coolpix L20 digital compact camera. This budget point-and-shoot features 10 megapixels and 3.6 optical zoom in addition to a large 3″ LCD screen.
Some key features for the Nikon Coolpix L20:
-10 megapixel sensor
-3.6x optical zoom lens (38 – 136mm)
-3″ LCD screen
-20MB of built-in memory
Nikon Coolpix L20 gets a "Recommended" 80% score from Camera Labs. On the positive side the camera is cheap and easy to use, but on the negative side the L20 has no image stabilization and is relatively slow. Overall this Coolpix camera seems like a nice choice for point-and-shoot photographers, but not recommended for more experienced photographers.
Read the full review of the Nikon Coolpix L20 digital camera here.