Nikon announces Nikon CoolPix S70 digital camera with 3.5″ OLED touch screen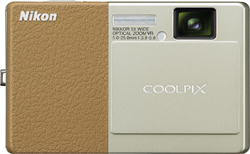 Nikon CoolPix S70
Nikon has announced several new compact digital cameras today. Among them we find the Nikon CoolPix S70 that has a big 3.5″ OLED touch screen. The S70 camera also features 12.1 megapixels and 5x optical zoom. It is nice to see that Nikon pushes the technology further with this new OLED touch screen.
Some key features for the Nikon CoolPix S70:
-3.5″ OLED touch screen
-12.1 megapixel sensor
-5x optical zoom lens (28-140mm)
-optical and digital image stabilization
-HD 720p movie mode with 30 fps
-20MB built-in memory
The Nikon CoolPix S70 will be available in September 2009 and cost about $400.

Press release:
Amsterdam, 4th August 2009 – Nikon Europe today announces the introduction of the world's first camera with integrated projector as part of its brand new range of COOLPIX compact digital cameras. The innovative series also includes a camera with multi touch OLED screen, a compact shooter which is as fast as a D-SLR*1 and an elegantly stylish, yet simple to use colourful compact.
Whether you're a gadget guru or simply a compact camera fan, the new COOLPIX range has something for everyone. It's the COOLPIX S70 that boasts an innovative multi-touch 3.5 inch OLED display and the ability to record HD quality video, while the COOLPIX S640 is the fastest camera in the COOLPIX range – so you never miss a photo opportunity.
The COOLPIX S570 is stylish and designed to make sure that even the most novice photographer can capture quality photographs. But it's the COOLPIX S1000pj where Nikon is set to shake-up the way that people share their photos and videos with a true world first – a compact digital camera with integrated projector. All four new models feature NIKKOR lenses, Nikon EXPEED digital image processing, and include legendary Nikon features designed to capture stunning pictures.
Mark Pekelharing, Product Line Manager Consumer Products at Nikon Europe B.V: "We are thrilled with our innovative new COOLPIX collection and, across the range, believe we have created a camera to suit everyone. Our multi touch and projector gadgetry will be sure to impress, but ultimately, all of the range offers sophisticated features to produce Nikon-quality images and bolsters our already impressive collection."
The COOLPIX S70 – Innovative Organic EL touch screen technology
With an innovative multi touch screen, the good looking COOLPIX S70 was designed with ease of use in mind. With the ability to pinch, pull and scroll through images in numerous ways on the high quality 3.5 inch Organic EL screen, this camera represents a first in the Nikon range for this upcoming technology.
In addition, the camera also features Touch Shutter – allowing you to focus and take a picture simply by touching the relevant area on the screen. Alongside the chic retro leather-effect exterior design, the high quality OLED screen reflects the superior performance of the camera. With 12.1 megapixels, wide angle 5x zoom NIKKOR lens and a clear and vivid display regardless of environmental conditions, simplicity of use is guaranteed.
Another high performance feature is the ability to record high quality HD movie clips to capture special moments on film. In addition, the ability to 'leaf' through pictures quickly and easily makes the COOLPIX S70 the camera of choice for those looking for the latest in photographic gadgetry.
The COOLPIX S70 will be available at an RRP of £339 / €379.