Nikon announces Coolpix S230 digital camera with touch screen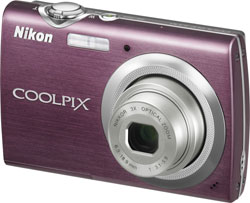 Nikon Coolpix S230
Among all the compact digital cameras Nikon announced today we get the Nikon Coolpix S230 with touch screen. The camera from Nikon also features a 10 megapixel sensor, 3x optical zoom and 3″ LCD screen.
Some key features for the Nikon Coolpix S230:
-10 megapixel sensor
-3x optical zoom (35 – 105mm)
-3″ LCD touch screen
-44MB of built-in memory
The Nikon Coolpix S230 will be available in March 2009 and cost about $230.

Press release:
Nikon Unveils New S230 Touch Screen Digital Camera
Playback and Zoom Controlled with the Swipe of a Finger
MELVILLE, NY (February 2, 2009) – Hot on the heels of the successful COOLPIX S60 camera, Nikon today introduced the new S230, which incorporates Nikon's innovative touch screen LCD, offering the cutting-edge of elegant design and intuitive operation. The S230 combines a 3.0-inch high-resolution touch panel LCD design with a new graphic interface that lets users switch modes, view and edit images and change camera settings with the touch of the screen.
"Touch technology is one of the hottest things in consumer electronics today and our new S230 is no different," said Bill Giordano, General Manager Marketing, COOLPIX for Nikon Inc. "With the S230, our touch screen brings a new level of sophistication and interaction to consumers, by putting the power of the camera right at their fingertips."
Touch controls also give users a fun, creative way to do more with their pictures. The camera comes equipped with a stylus that brings an element of personalization and expression. With the Draw Function, users can write or draw on their pictures. The S230 also has the Paint Function, which enables users to add fun frames and stamps to their pictures. The camera saves the images as copies, so the user always has access to the original picture.
In addition to the Touch Screen LCD, the S230 includes several innovative features introduced across the entire COOLPIX line. The S230 incorporates Nikon's world-class NIKKOR lenses, which deliver extremely accurate and high-speed focusing, and Nikon's EXPEED™ digital image processing concept, which ensures high-quality pictures with stunning color and sharpness.
The S230 camera also includes new shooting modes, which Nikon has seamlessly integrated into the camera's interface. These include:
*
Scene Auto Selector, which automatically recognizes the scene in your camera and adjusts the camera settings:
o
The camera will select between six common scene modes: Close-up, Portrait, Landscape, Backlight, Night Portrait, and Night Landscape.
*
Smart Portrait System, which integrates the following to make it a snap to capture stunning portrait photos of friends and family:
o
In-Camera Red-Eye Fix™, which automatically fixes most instances of red-eye.
o
Enhanced Face-Priority AF, which can detect up to 12 faces from a variety of angles, including straight on, from the side, or even in a multitude of three-quarter positions.
o
Smile Mode, which automatically detects when your subject smiles and releases the shutter.
o
Blink Proof, which automatically takes two shots and saves the one in which the subject's eyes are open.
*
4-Way Vibration Reduction (VR) Image Stabilization, which helps enable blur-free pictures, even in low light or unsteady conditions with the following features:
o
Electronic VR, which compensates for camera shake within the image processing, which minimizes blurriness in photos and helps ensure crisp, clear images.
o
Motion Detection, which automatically sets a faster shutter speed and higher ISO if the camera detects movement from camera shake or if the subject moves.
o
ISO 2000 Capability, which makes it easy to take sharper, more natural-looking photos in lower light conditions.
o
Best Shot Selector (BSS), which takes a maximum of 10 sequential shots while the shutter button is pressed, and saves the sharpest image, making sure photos are crisp, clear, and detailed.
The new S230 camera will be available nationwide beginning February 2009 and will retail for $229.95. The camera will be available in five colors: Plum, Jet Black, Night Blue, Gloss Red and Warm Silver. The new S230 is one of four new S-series cameras introduced by Nikon today. Other cameras include the S630, S620 and the S220 (for more information, please see press release, "NIKON UNVEILS S630 NEW POCKET-SIZED 7X ZOOM DIGITAL CAMERA," Feb. 2, 2009)
For more information about the new COOLPIX cameras, please visit www.nikonusa.com.