Nikon AF-S DX Micro-Nikkor 85mm f/3.5G ED VR lens test / review by Photography Blog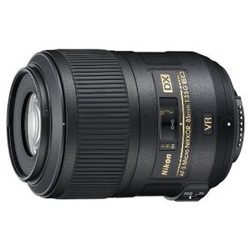 Nikon AF-S DX Micro-Nikkor 85mm
Photography Blog has reviewed a macro lens from Nikon. The lens is called Nikon AF-S DX Micro-Nikkor 85mm f/3.5G ED VR and comes with Nikon Silent Wave Motor (SWM) in addition to having a relatively low price tag. The Nikon lens is designed for their DX-format and gives you a 1:1 reproduction ratio.
Photography Blog ends up giving the Nikkor 85mm f/3.5G lens a "Recommended" rating with an overall rating of 4 out of 5 possible stars. The Nikon lens scores highest on design and ease of use where it gets a perfect a score, a little lower on features and value for your money and lowest on image quality. This Nikon macro lens is lightweight and has a compact design that is useful when walking around. The pictures from this lens is good, but the sharpness could been better.
Read the full review of the Nikon AF-S DX Micro-Nikkor 85mm f/3.5G ED VR lens here.