Kodak EasyShare Z950 test / review by Digital Camera Review – budget camera with 10x optical zoom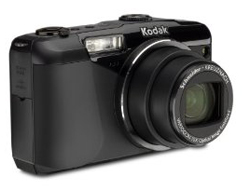 Kodak EasyShare Z950
Digital Camera Review has reviewed the compact digital camera Kodak EasyShare Z950. This budget camera from Kodak offer 10x optical zoom and 12 megapixels so it will be interesting to see how the image quality is.
Some key features for the Kodak EasyShare Z950:
-12 megapixel image sensor
-10x optical zoom (35-350mm)
-3″ LCD screen
-Smart Capture feature
-HD video
Digital Camera Review ends up giving the Kodak EasyShare Z950 an ok review as the camera has a good lens, good ergonomics and performs well at higher ISO levels. There is a few shortcomings like bland colors and some overexposure, but at the price this seems like a fine compact camera from Kodak.
Read the full review of the Kodak EasyShare Z950 camera here.