Kodak EasyShare M590 beginner-level camera test / review by About.com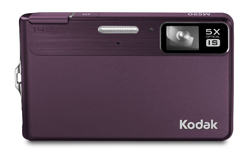 Kodak EasyShare M590
About.com has tested a beginner level camera from Kodak. The camera is called Kodak EasyShare M590 and features like a button that lets you automatically upload your photos to social networks (Facebook, Flickr, Orkut, etc).
Some key features for the Kodak EasyShare M590:
-14 megapixel image sensor
-5X optical zoom lens (35-175mm)
-Image stabilization
-2.7″ LCD screen
-Face Recognition feature
-One-button upload to e-mail and social network sites
About.com ends up giving the Kodak EasyShare M590 a total score of 3 out of 5 possible stars. On the positive side reviewer finds the M590 to have nice image quality for its class, good button design, enjoyable body design and the LCD screen is good. On the negative side we find aspects such as slow autofocus, poor flash, slow menu system and small LCD screen. If the camera had been a bit faster to use it would have get a higher score. Let us hope Kodak works on this for their next camera in this series.
Read the full review of the Kodak EasyShare M590 beginner-level camera here.