HP Photosmart eStation C510 All-in-One printer review / test by CNET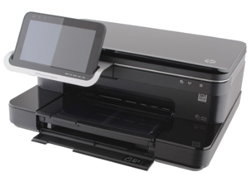 HP Photosmart eStation C510
CNET has tested a HP printer that lets you do so called ePrinting. What this means is that you can print directly via emails and mobile devices. The printer is called HP Photosmart eStation C510 and is an All-in-One inkjet printer.
Some key features for the HP Photosmart eStation C510:
-All-in-One inkjet printer
-Wireless printing by email
-Detachable 7-inch Android-powered tablet
-Removable auto-duplexer
-Prints from mobile devices
CNET ends up giving the eStation printer an overall score of 3 of 5 possible stars and a "Good" rating. The printer scores highest on service and support, a little lower on performance and lowest on features and design. The HP printer has some shortcomings hindering it from getting a better score and include a high price tag, error with network connectivity and buggy interface. If they are able to fix this with the next printer in this series they should get a higher score.
Read the full review of the here.