General Imaging announces GE E1486TW, E1480W, A1255 and A1455 digital cameras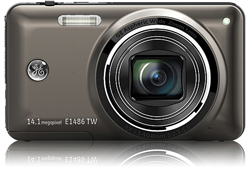 GE E1486TW
General Imaging has announced four new compact digital cameras. They are called GE E1486TW, E1480W, A1255 and A1455.
The top models GE E1486TW and E1480W in the Power Series features 14 megapixels, 3″ LCD screen, 8x optical zoom (28-224mm), optical image stabilization and the ability to record HD movies. One major difference between the two cameras is that the E1486TW have a touchscreen. The two cameras will cost about $180 and $150, and will be available on the marked during the spring of 2010.
The other two models, A1255 and A1455, is a part of the Smart Series and comes with 5x optical zoom and 2.7″ LCD screen. The GE A1255 will have a 12 megapixel image sensor while the GE 1455 will have a 14 megapixel version. The cameras will cost about $90 and $100, and will come on the marked during the spring of 2010.

Press release:
General Imaging Offering 'MORE' With New GE Digital Cameras
Feature-rich, technically advanced point-and-shoot cameras from GE are sure to impress everyday and serious photographers alike
LAS VEGAS /PRNewswire/—DIGITAL EXPERIENCE AT CES – Whether your New Year's resolution is to take better pictures or capture more memories, General Imaging, the worldwide exclusive licensee for GE digital cameras, will unveil four new cameras today that make either resolution easy.
For focused photographers looking for more power and performance at an affordable price, the GE E1486TW and E1480W are the latest additions to the Power Series. Both the E1486TW and E1480W are loaded with highly-coveted features, including the ability to film high-definition movies, 14-megapixel resolution for incredible clarity, an amazing 8X optical zoom that's unprecedented at this price point, and a large 3-inch LCD screen. At only .83 inches thick, the cameras offer one of the slimmest 8X optical zoom performance in the market. Both the E1486TW and E1480W offer innovative OIS image stabilization technology that ensures crisp, clear photos every time, while a 28-mm angle glass lens provides the flexibility to go wide when needed. In addition, the E1486TW offers an innovative touch screen control, putting the control at your fingertips. A simple swipe of your finger lets you scroll through recent shots and swipe the screen to zoom photos. The E1486TW and E1480W are attractively priced with suggested retail prices (SRPs) of $179.99 and $149.99, respectively. They will ship this spring, and are available in black, red and silver among other colors.
The GE line continues to build upon the legacy of the Smart Series, by introducing two new stylish cameras with intuitive features that make beautiful photography simple, easy to use and at a smart value. The GE A1255 and GE A1455 each offer 5X optical zoom to get you closer to your subjects and a 2.7-inch LCD screen to easily preview your shots. The GE A1255 is a robust camera that features 12 megapixels of resolution, for a SRP of $89.99. For the everyday photographer who seeks even greater high-resolution detail, the GE A1455 offers 14 megapixels of resolution for crystal clear enlargements at an SRP of $99.99. Both cameras will ship this spring, and are available in a variety of colors including black, silver and red.
"Our customers continue to be impressed with the performance and trusted name of our GE digital cameras. We're confident that the new Power and Smart Series will continue to provide that same level of consumer confidence with the latest features and value for virtually every photographer," says Paul Meyhoefer, General Imaging's vice president of Marketing and Product Planning. "No other camera offers 8X optical zoom and touch screen controls in such a slim design like our E1486TW. And our Smart Series rounds out the offering with some of the best feature combinations in its price category."
Advanced features are standard in all 2010 GE digital cameras including Pan-Capture Panorama for seamless, wide-angle shots; Auto Scene Detection for sharp, vibrant pictures in virtually any setting; Blink, Smile and Face Detection to showcase the best of the people you're photographing; Image Stabilization for high quality, sharp images; and In-Camera Red-Eye Removal.
About General Imaging
Based in Torrance, Calif., General Imaging is the worldwide exclusive licensee for GE branded digital cameras. Unveiling its first cameras in March 2007, General Imaging has set a new precedent for high-quality, feature-rich cameras that offer excellent value.
For more information about the Smart Series and Power Series and the entire line of GE brand digital cameras, please visit http://www.ge.com/digitalcameras/US.