Fujifilm X10 sophisticated compact digital camera test / review by CNET UK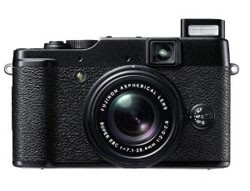 Fujifilm X10
CNET UK has reviewed a very interesting compact camera from Fujifilm called Fujifilm X10. This retro looking camera comes with a larger than usual image sensor and the zoom lens is pretty bright. It seems like Fujifilm thinks about the photographer with this camera and not gimmicks.
Some key features for the Fujifilm X10:
-2/3-inch, 12-megapixel EXR-CMOS sensor
-Advanced EXR processor
-Supports RAW file format
-4x (28-112mm) optical zoom lens, f2.0 wide-angle and f2.8 telephoto
-Retro design
-Supports SD/SDHC/SDXC memory cards
CNET UK ends up givng the Fujifilm X10 a perfect score with 5 out of 5 possible stars. The reviewer praises aspects such as great design and build quality, excellent picture quality and useful features. If you have a bit of money and want an excellent tool for photographing this camera from Fujifilm might be your choice!
Read the full review of the Fujifilm X10 sophisticated compact digital camera here.