Fujifilm launches FinePix Z200fd digital compact camera with 10 megapixels and 5x optical zoom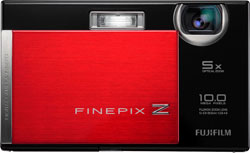 Fujifilm FinePix Z200fd
Fujifilm has announced a new compact camera, the FinePix Z200fd, that comes in 4 designs (a black and red combination, pink, silver and black).
Some key features for the Fujifilm FinePix Z200fd:
-10 megapixel 1/2.3″ CCD sensor
-5x Fujinon optical zoom lens (33-165mm equivalent)
-Image stabilization
-ISO sensitivity up to 1600
The FinePix Z200fd camera is shipping in August 2008.


Press release:
Fujifilm introduces a stylish new snapper: the FinePix Z200fd
Fujifilm today announced the launch of the 10 Megapixel FinePix Z200fd, the latest addition to its popular range of ultra-slim, metal-bodied, high performance ccompact digital cameras.
Despite being only 19.8mm thick the FinePix Z200fd is packed with state-of-the-art technology including a 5x Fujinon optical zoom lens, Fujifilm's acclaimed Face Detection technology, intelligent red-eye removal and Dual Image Stabilisation, as well as two brand new self-timer modes: Couple Timer and Group Timer.
It's all about the timing
The FinePix Z200fd features two brand new self-timer modes: Couple Timer and Group Timer. Working in combination with Face Detection technology, the self-timer automatically sets off after the camera has detected faces in a frame. The camera won't take the photo if one of the faces is out the frame, so there's no need to worry about someone being missed out of the shot!
Cheek-to-cheek
The Couple Timer mode cleverly detects two faces in a frame and will automatically release the shutter button as the two faces come closer together. The Couple Timer mode has three settings so users can set the timer to detect faces at various distances, whether they are standing side by side, or cheek-to-cheek.
The more the merrier
Group shots have never been so easy. The FinePix Z200fd's Group Timer mode can detect up to four faces in a frame and automatically sets the timer to take that precious shot. Using the Face Detection button, the user can select the number of faces in the frame, from one to four, and the camera will only take the shot once all the specified number of faces are in the frame.
Cutting edge design and packed with features
The FinePix Z200fd houses powerful features in an elegant, metal body. This stylish camera comes in four attractive colours – a black and red combination, pink, silver and black – and has a unique diagonally sliding lens cover with a snazzy 'Z' logo that illuminates when the camera is switched on. Its slim design means that it can fit easily into a cluttered handbag or jean pocket so your camera is always to the ready.
Beneath its trendy exterior, the FinePix Z200fd boasts an impressive Fujinon 5x zoom lens (33-165mm equivalent), Dual Image Stabilisation, which combines CCD-shift and high ISO to combat the problem of camera shake and blurry images, and ISO sensitivity up to 1600. There's also Fujifilm's Intelligent Flash system, which sets the power output to achieve natural foreground illumination with balanced background exposure for more natural looking photos. For users who cannot decide whether to use a flash or not, Natural Light plus Flash mode takes two photos in quick succession, one with flash and one without. Both photos are then displayed side by side for quick comparison allowing users to decide which one they prefer.
The FinePix Z200fd makes perfect portraits simple with Fujifilm's Face Detection technology. Face Detection works by triangulating eyes and mouth, using an algorithm to optimise focus, white balance and exposure for up to ten faces in a single frame, and is not confused by spectacles. In addition, the automatic red-eye removal feature can find and instantly correct any red eye from every face in the frame, saving the user the time consuming process of doing it afterwards on the computer.
To share and share-alike
The FinePix Z200fd is a perfect social camera. In addition to the Face Detection technology and people-friendly self-timers modes, the FinePix Z200fd features a Blog mode, which resizes images for easy upload to social networking sites such as Facebook™, and an Auction mode, which combines up to four photos in one frame – ideal for eBay™ users. What's more, the FinePix Z200fd's IrSimple™ function allows consumers to share photos from one IrSimple™ device to another.
Real Photo Technology
Driving the FinePix Z200fd is Fujifilm's unique Real Photo Technology (RPT). The guiding principles behind RPT are simple; to set the highest possible standards for overall image quality, to expand digital photography opportunities and to give users fewer wasted shots.
With the human eye as the ideal, Real Photo Technology cameras are designed from the ground up to capture 'real' photographs with stunning quality – giving users the power to capture the moment exactly as the eye sees it, no matter how challenging the shooting conditions.
Adrian Clarke, Fujifilm's Director of Photo Products, said: "The FinePix Z200fd is the perfect 'social' camera for the user looking for a combination of classic styling and cutting edge features. We believe that consumers wanting a super-slim camera shouldn't have to make compromises on image quality or features, and with the FinePix Z200fd they don't."
FinePix Z200fd features at a glance
* Ultra slim (19.8mm thick) styling with two-tone all metal body
* 5x optical zoom lens (33-165mm equivalent)
* Dual Image Stabilisation
* Face Detection Technology and automatic intelligent red-eye removal
* 52MB internal memory plus xD-Picture card, SD and SDHC compatibility
* ISO 100-1600 sensitivity at full resolution
* Wide view 2.7-inch high resolution screen
* Playback features including Face Zoom and Micro Thumbnail (100 shot) view
* IR Communication (IR simple™)
* Blog mode and Auction mode
* VGA movie capture of 30 frames per second with sound
* New modes including Folder Select (categorise your photos using handy preset folders) and Illustration Mode.
* PictBridge™ compatible for direct printing without a PC
Availability & pricing
The FinePix Z200fd will be available from UK retailers from August. Pricing will be announced nearer to the date of the launch.*
Contact details for customers
For information about Fujifilm and its products, please visit: www.fujifilm.co.uk or call 0870 084 1310
About Fujifilm
Fujifilm is a global leader in imaging technology, products and services including digital cameras, photofinishing, digital storage and recording media, consumer and professional film, motion picture film, professional video, printing systems, medical imaging, office technology, flat panel displays and graphic arts. The company employs more than 73,000 people worldwide, with 178 subsidiaries stretching across four continents.
Uniquely placed to be a market leader in digital imaging, Fujifilm develops and manufactures its own sensors, lenses and processing technology. In addition to its production plants and R&D operations in Japan, the company has key manufacturing facilities in Europe and the USA for core products such as colour film, colour paper, single use cameras and CTP printing plates, and has further factories in Brazil and China. It has a global turnover in excess of £13 billion.
In the UK, Fujifilm has been supplying the imaging, printing and graphics industries, as well as consumers, professional and enthusiast photographers, with high quality, innovative products and services for over 25 years. Fujifilm UK currently employs more than 450 people and has become one of the country's most popular photographic and imaging brands.
© 2008, Fujifilm (UK) Ltd. Specifications are subject to change.