Fujifilm FinePix S2800HD digital camera with 18x zoom test / review by Photography Blog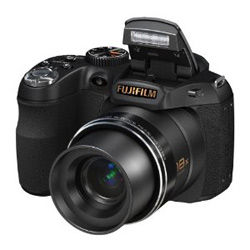 Fujifilm FinePix S2800HD
Photography Blog has reviewed a superzoom camera from Fujifilm called Fujifilm FinePix S2800HD. The S2800HD has a nice zoom range that starts at 28mm and ends at 504mm. In addition it has 14 megapixels and a large 3″ LCD screen.
Some key features for the Fujifilm FinePix S2800HD:
-14 megapixel image sensor
-18x optical zoom lens (28-504mm)
-Dual Image Stabilization
-3″ LCD screen
-Records 720p HD video
-Mini HDMI Port
-Panorama Shooting mode
Photography Blog ends up giving the Fujifilm S2800HD a "Recommended" rating with an overall score of 4 out of 5 possible stars. The digital camera scores highest on value for your money, almost as high on design, features and ease of use while it scores lower on image quality. The camera might have a look like a DSLR camera, but you will not get images out of this one of DSLR-quality. On the positive side the camera has a lot of features and it does come at a low price compared to other superzoom cameras.
Read the full review of the Fujifilm FinePix S2800HD here.