Fujifilm FinePix F60fd digital camera review / test by Cameralabs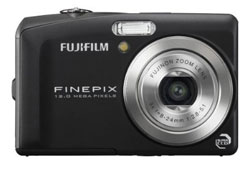 Fujifilm FinePix F60fd
Cameralabs has reviewed the 12 megapixel FinePix F60fd digital camera produced by Fujifilm.
Some key features for the Fujifilm FinePix F60fd:
-12 megapixel sensor
-3x optical zoom lens (35-105mm, f/2.8-5.1)
-3″ LCD screen
-Dual image stabilization
-ISO 100-1600 sensitivity at full resolution, ISO 3200 and 6400 at 6MP and 3MP resolution respectively
Cameralabs ends up giving the Fujifilm FinePix F60fd a "Recommended" verdict. This is due to the fact that the camera is able to take good pictures, and that it let us have full manual control over aperture and shutter speed. The downsides that this camera is not a big upgrade from the previous model, FinePix F50fd, and that the image stabilization could be better when you compare it with rival cameras.
Overall the Fujifilm FinePix F60fd seems like a nice family camera.
Read the full review of the Fujifilm FinePix F60fd camera here.