Epson Stylus Photo R3000 A3+ inkjet printer test / review by Photography Blog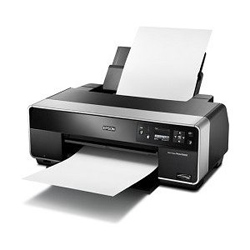 Epson Stylus Photo R3000
Photography Blog has reviewed a more serious photo printer that is able to make A3+ prints. The printer is called Epson Stylus Photo R3000 and uses Epson UltraChrome K3 with Vivid Magenta Ink technology. Let us hear if this printer suits us photographers.
Some key features for the :
-Epson UltraChrome K3 with Vivid Magenta Ink Technology
-Roll paper in sizes up to 13″ wide
-Individual high-capacity ink cartridges
-Wireless, USB 2 and ethernet connectivity
Photography Blog ends up giving the R3000 printer a "Highly Recommended" rating and an overall score of 4.5 stars out of 5 possible. The Epson printer scores highest on image quality and design where it gets a perfect score, and a little lower on features, ease of use and value for your money. The R3000 seems to be a better printer than the previous in this line from Epson. It has more features, better design and is easier to use. If you are looking for a photo printer that makes excellent photos this might be your choice.
Read the full review of the Epson Stylus Photo R3000 A3+ inkjet printer here.