Epson PictureMate Charm photo lab inkjet printer test / review by PC Magazine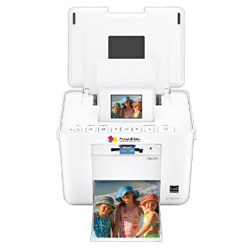 Epson PictureMate Charm
Epson PictureMate is a series of popular photo printer from Epson that has scored high on tests. The latest Epson PictureMate Charm has now been tested by PC Magazine.
Some key features for the Epson PictureMate Charm:
-Print speed: 37 seconds for postcard sized images
-2.5″ LCD screen
-Memory card slots
-Auto Photo Correction
-Has a carry handle
PC Magazine ends up giving the Epson PictureMate a "Very Good" 4.5 out of 5 points rating. The printer gets such a good rating due to very fast print speeds and high quality prints that are even better than previous PictureMate models. The prints are long lasting and actually pretty cheap to produce. The only downsides are a bit small LCD screen and the lack of ability to print from USB sticks.
Read the full review of the Epson PictureMate Charm printer here.