Casio EXILIM G EX-G1 test / review by Photography Blog – waterproof digital camera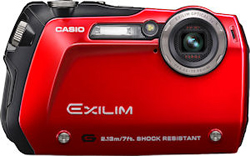 Casio EXILIM G EX-G1
Photography Blog has tested the Casio EXILIM G EX-G1 compact digital camera. Digital camera that are able to withstand rough conditions seems to be fashionable these days so it will be interesting to see how good this Casio camera is.
Some key features for the Casio EXILIM G EX-G1:
-Waterproof down to 3 meters for 1 hour
-Able to operate at -10°C
-Shock-resistan to drops from up to 2.13 meters
-12.1 megapixel image sensor
-2.5″ LCD screen
-3x optical zoom lens (38-114mm)
Photography Blog ends up giving the Casio EXILIM G EX-G1 an "Average" 3 out of 5 stars rating. The camera scores highest on ease of use, features on design while scoring pretty low on image quality and a little better on value. The camera sure has many good features, but that does not help much when the actual image quality is lacking. The reviewer often find pictures taken with the EX-G1 to have a very "digital" feel to them which I do not find appealing at all.
Read the full review of the Casio EXILIM G EX-G1 digital camera here.