Casio Exilim EX-Z16 inexpensive digital camera test / review by About.com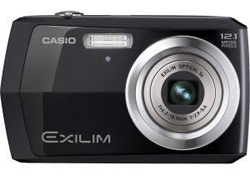 Casio Exilim EX-Z16
About.com has tested an inexpensive digital camera from Casio. The camera is called Casio Exilim EX-Z16 and some interesting features like 12 megapixels and a widescreen video recording mode. Let us hear if the reviewer finds the camera to be any good.
Some key features for the Casio Exilim EX-Z16:
-12 megapixel image sensor
-3x optical zoom lens (35.5-106.5mm)
-4x digital zoom
-2.7″ LCD screen
-Widescreen video recording
-YouTube capture mode
-Uses SDHC and SD memory cards
About.com ends up giving the Casio Exilim EX-Z16 a total score of 3.5 stars out of 5 possible. On the positive we find aspects such as thin and stylish camera body design, the Z16 is easy to use, good image quality and the flash works well. There are some negative points too and they include poor focus in low light conditions, short zoom range, the flash sometimes washes out your photos and a bit of shutter lag in dark conditions. If you are a beginner to photography the Exilim EX-Z16 might be your choice especially if you are looking to use less than $100.
Read the full review of the Casio Exilim EX-Z16 digital camera here.