Casio EX-Z800 budget digital camera review / test by Photography Blog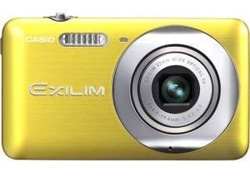 Casio EX-Z800
Photography Blog has tested a cheap compact camera from Casio called Casio EX-Z800. Even though it comes with a low price tag it has some nice features such as over 14 megapixels, image stabilization and the ability to record HD movies.
Some key features for the Casio EX-Z800:
-14.1 megapixel image sensor
-4x optical zoom lens (27-108m)
-Image stabilization
-2.7″ LCD screen
-720p HD movies
Photography Blog ends up giving the Casio camera a "Recommended" rating with an overall score of 4 out of 5 possible stars. The Z800 scores highest on value for your money, a little lower on design and lowest on image quality, features and ease of use. The camera has several good aspects and you get a lot for the buck, but the image quality could have been better. Let us hope Casio works on this with their next camera in this line.
Read the full review of the Casio EX-Z800 digital camera here.