Canon PowerShot SX230 HS digital camera with GPS tracker test / review by CNET UK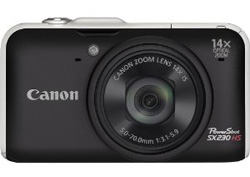 Canon PowerShot SX230 HS
CNET UK has tested a new digital camera from Canon that supports GPS tracking. The camera is called Canon PowerShot SX230 HS and is very similar to the SX220 but has GPS tracking as an additional feature.
Some key features for the Canon PowerShot SX230 HS:
-12.1 megapixel image sensor
-14x optical zoom lens (28-392mm)
-Optical image stabilization
-3″ LCD screen
-GPS tracker
-Full 1080p HD Video
CNET UK ends up giving the PowerShot SX230 HS an overall score of 3.5 out of 5 possible stars. On the positive side the reviewer find aspects such as useful zoom range, the image stabilization works well, HD video and the camera is good at taking photos in low light situations. On the negative side we find points such as high price tag, poor flash, not much battery life and the camera is pretty heavy.
Read the full review of the Canon PowerShot SX230 HS digital camera with GPS tracker here.