Canon PowerShot SD880 IS firmware update to version 1.0.1.0 – Corrects malfunction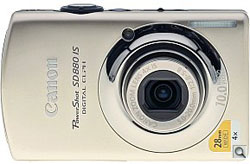 Canon PowerShot SD880
Canon has released a new firmware for their PowerShot SD880 IS camera. The new 1.0.1.0 version of the firmware corrects a rare malfunction that where the camera lose power.
Information from Canon:
This firmware update corrects a phenomenon that when the following settings are used in combination, if the shutter button is pressed halfway to focus during shooting (AND the AF frame magnifies), but the shutter button is released without taking the picture, the camera will lose power.
Setting details
1. The shooting mode switch is set to Special Scene Mode (SCN), Kids&Pets.
2. AF Point-Zoom on the menu is set to On.
(When the AF frame is in Face Detect or Center, and the Servo AF is OFF, the AF Point-Zoom can be set to On.)
Please note that, if the shutter button is pressed halfway, and the picture is then taken, this phenomenon will not occur.
If loss of power does occur, pressing the power switch will restore the camera to its normal operation.
Please check the serial number on the bottom of the camera.
Serial numbers
Products whose fifth digit from the left is 0 or 1 are affected.
****0*****
****1*****
If the fifth digit from the left of the serial number is 2 or above, the issue has already been corrected at the factory with a firmware update, and you may continue to use the camera "as is" with no further action required.
For more information and how to download the new firmware for the Canon PowerShot SD880 IS camera visit their website.