Canon PowerShot S90 camera test / review by CNET UK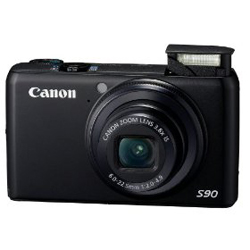 Canon PowerShot S90
CNET UK is fast becoming a nice reviewing site for me. Their latest camera review is of the Canon PowerShot S90 compact digital camera that is supposed to be a high-end compact.
Some key features for the Canon PowerShot S90:
-10 megapixel image sensor
-3.8x optical zoom (equivalent to 28-105mm) bright f/2.0 lens
-3″ LCD screen
-Optical image stabilization
-ISO sensitivity up to 12,800
CNET UK ends up giving the Canon PowerShot S90 a very good 9.1 out of 10 rating. They really like the design of the camera and it also takes pictures of excellent quality. The S90 also has good lens control and ability to record RAW-files. The only downside is no hi-def video and the rear controller could have been designed better.
Read the full review of the Canon PowerShot S90 camera here.