Canon PowerShot A3300 IS 16 megapixel compact camera test / review by Imaging Resource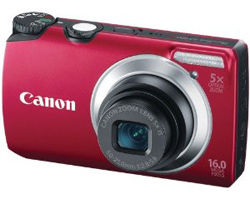 Canon PowerShot A3300 IS
Imaging Resource has reviewed a new compact digital camera from Canon. The camera is called Canon PowerShot A3300 IS and has plenty of megapixels, 16 to be exact, and a nice 5x optical zoom lens starting at 28. One other cool feature with the Canon camera is "Discreet Mode" that disables the sound, flash and auto focus beam.
Some key features for the Canon PowerShot A3300 IS:
-16 megapixel image sensor
-5x optical zoom lens (28-140mm)
-Optical image stabilization
-High-definition 720p video
-3″ LCD screen
-Discreet Mode
Imaging Resource ends up giving the A3300 a good review and it even gets a "Dave's Pick" reward. On the positive side the reviewer find the camera design to be nice, it has many good features and great image quality. There are some negative points too including poor battery life, only digital zoom while filming movies and no HDMI output. Overall Canon has produced another good compact camera that should make photographers happy.
Read the full review of the Canon PowerShot A3300 IS 16 megapixel compact camera here.