Canon Digital IXUS 200 IS / PowerShot SD980 IS Digital ELPH test / review by Photography Blog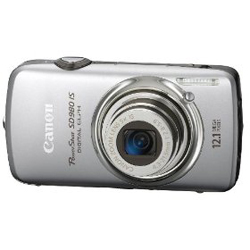 Canon Digital IXUS 200 IS
Photography Blog has tested the Canon Digital IXUS 200 IS digital compact camera (also known as Canon PowerShot SD980 IS Digital ELPH in some markets). This Canon compact is the first IXUS / ELPH camera with touchscreen, and also has 5x optical zoom and HD video recording capability.
Some key features for the Canon Digital IXUS 200 IS:
-12 megapixel image sensor
-5x optical zoom lens (24-120mm)
-3″ LCD touchscreen
-720p HD video recording
-Optical image stabilization
Photography Blog ends up giving the Canon Digital IXUS 200 IS an "Above Rating" as the reviewer thinks the price tag is too high compared to what you get. The Canon camera scores highest on design and ease of use while scoring lower on image quality and value for your money. It is nice to see that Canon have implemented touchscreens in their new cameras, but they should try harder with the next camera.
Read the full review of the Canon Digital IXUS 200 IS camera here.