Canon announces PowerShot A480 digital camera – 25% smaller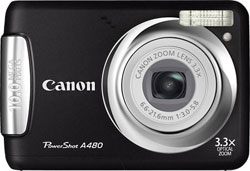 Canon PowerShot A480
Canon has announced the new Canon PowerShot A480 digital compact camera. This camera is the successor to the previous Canon PowerShot A470. The new PowerShot A480 is 25% smaller than its predecessor and a new simpler button system.
Some key features for the Canon PowerShot A480:
-10 megapixel sensor
-3.3x optical zoom
-2.5″ LCD screen
-Face detection
-Motion detection

Press release:
Fun, pocket-sized and totally intuitive:
the new PowerShot A480
Amstelveen, The Netherlands, 15 January 2009: Canon today replaces its popular PowerShot A470 with a new 10.0 Megapixel model: the extra-compact, affordable PowerShot A480. Redesigned for even more intuitive operation, the PowerShot A480 offers a new build and design that is 25% smaller than that of its predecessor – in a choice of silver, red, blue or black. Flexible framing of shots is made easy by a 3.3x Canon optical zoom, while Canon's DIGIC III processor delivers high image quality, superb colour reproduction, Face Detection Technology and Motion Detection Technology.
Designed to be easy
Every aspect of the PowerShot A480 has been redesigned with one thing in mind: ease of use. Thanks to a new, simplified button layout – with dedicated buttons for zoom, mode and playback and an improved User Interface, it's as easy to operate as it is to carry. Compact proportions make the PowerShot A480 an ideal 'take-anywhere' camera, perfect for capturing spontaneous snapshots.
Generous Megapixels and flexible zoom
The PowerShot A480 uses a 10.0 Megapixel sensor to capture every scene in vivid detail, ready for printing at sizes as large as A3+. This is complemented by a 3.3x optical zoom, which provides the flexibility to frame everyday shots to perfection.
Canon know-how for great shots made easy
At the heart of the PowerShot A480 is Canon's DIGIC III image processor. As well as ensuring exceptional image quality – with ultra-low noise levels and outstanding colour reproduction – DIGIC III drives the rapid response times, and Canon's own Face Detection Technology. Designed to make great people shots easier than ever, Face Detection Technology detects up to nine faces in a scene and adjusts focus, exposure, flash settings and white balance – for optimal results with natural-looking skin tones.
To keep shots looking sharp, Motion Detection Technology uses changes in scene information to identify subject motion and camera-shake. ISO is then optimised for minimum blur and maximum image quality.
Ready for any occasion
A range of 15 preset shooting modes allows any user to instantly get the correct settings for common scenes. Options include dedicated Kids & Pets, Sunset, and Indoor modes. It's also equally easy to shoot spontaneous 30fps video clips, ready for upload to the internet or sharing via the bright 2.5" LCD screen. Plus, because the PowerShot A480 is powered by AA batteries, users can enjoy a convenient, readily available source of power.
"Whether you're 7 years old or 70, the PowerShot A480 offers a great-value way to discover the fun of taking pictures," said Mogens Jensen, Head of Canon Consumer Imaging, Europe. "This camera brings Canon's unrivalled image quality to its widest audience yet."
Features at a glance:
* Compact, lightweight 10.0 Megapixel camera in four colour variations (silver, red, blue or black)*
* Canon 3.3x optical zoom
* Easy to use, with simple button layout and intuitive user interface
* 2.5" LCD with Image Inspection Tool for focus checking
* People shots made easy with Face Detection AF/AE/FE/WB and
* Red-Eye Correction in both shooting and playback
* DIGIC III processing delivers high-quality images and intelligent technologies
* Combats blur with Motion Detection Technology
* Smooth, 30fps VGA movies with Long Play mode
* 15 shooting modes
* Safety FE avoids blow-out when the flash is used
* Powered by AA batteries
*Some colours may not be available in some regions.