Canon announces new entry level DSLR camera – EOS 1000D / Rebel XS / Kiss F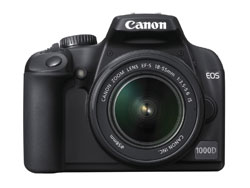 Canon EOS 1000D DSLR camera
Canon has announced a new entry level DSLR camera called EOS 1000D, Rebel XS or Kiss F in respectively Europe, US and Japan. This looks a camera that competes with Nikon D60 and Olympus E-420.
Some key features for the Canon EOS 1000D:
-10.1 megapixel CMOS sensor
-7-point wide area auto focus system
-2.5" LCD screen
-Up to 3 frames per second
-Compact and light DSLR body
In Europe the list price for the EOS 1000D body only is €549.


Press release:
The EOS 1000D: gateway to full EOS power
Amstelveen, The Netherlands, 10 June 2008: Canon today announces its latest D-SLR, the EOS 1000D. Featuring a 10.1 Megapixel CMOS sensor, 7-point wide area AF system and up to 3fps continuous JPEG shooting until the memory card is full, the EOS 1000D represents a more affordable entry point to the world of EOS cameras – whilst taking full advantage of over 70 years of imaging expertise.
With the lightest body of any digital EOS camera, the EOS 1000D incorporates a range of technologies used in Canon's professional EOS-1 series cameras, including the DIGIC III image processor, and Live View mode. For straight-from-the-box shooting, the EOS 1000D is available with a Canon EF-S 18-55mm IS lens – which includes 4-stop image stabilisation, ensuring superb performance even in low-light conditions.
"The EOS 1000D is a small camera with a big idea: the supreme adaptability and image quality of the EOS system, in an accessible, affordable package," said Mogens Jensen, Head of Canon Consumer Imaging Europe. "For anyone ready to take the next step in creative photography, it offers the perfect entry point to the world of D-SLR."
Features at a glance:
* 10.1 Megapixel CMOS sensor
* EOS Integrated Cleaning System
* 7-point wide-area AF system with f/5.6 cross-type centre point
* Up to 3 frames per second
* 2.5" LCD with Live View shooting
* DIGIC III image processor
* Compatible with SD and SDHC memory cards
* Compact and lightweight body
* Digital Photo Professional RAW processing software
* Fully compatible with all Canon EF and EF-S lenses and EX-series Speedlites
Designed to deliver more
As with all EOS models, key components for the EOS 1000D are designed and manufactured in-house to work with each other for the ultimate image quality. A 10.1 Megapixel CMOS sensor – with larger pixels for smooth, low-noise images – offers sufficient resolution to produce prints in sizes up to A4, even when cropping your image. To protect images against the effects of sensor dust, the EOS 1000D includes the EOS Integrated Cleaning System, which combats dust in three separate ways: reducing, removing and repelling.
The EOS 1000D also features a DIGIC III image processor, as used in Canon's professional D-SLR models. This allows continuous shooting until the SD or SDHC memory card is full, at speeds of up to 3fps – with the number of shots limited only by the size of the card. DIGIC III also delivers superior image rendering, rapid operation and virtually instant start-up times.
Intelligent focus and flash
For shots where fast focusing is needed, the EOS 1000D features a 7-point wide area Auto Focus system, capable of locking onto a subject in a fraction of a second. A cross-type central focus point continues to operate effectively even when used in lower-light and lower-contrast settings. Also included is E-TTL II, Canon's distance-linked flash exposure system found in professional EOS models.
Effortless ease
Weighing just 450g, the EOS 1000D is Canon's lightest D-SLR to date, with a compact, ergonomic body designed for comfortable handling. A bright 2.5" LCD screen lets users instantly review images for composition, sharpness and focus – or, thanks to a wide viewing angle, instantly share shots with friends. The LCD also provides access to a fast, easy-to-read menu system, which uses tabs to avoid unnecessary scrolling. Inherited from the latest EOS models, the menu system includes direct control over external devices such as Speedlite flash units.
Photo quality in every situation is aided by 12 custom functions, including Auto Lighting Optimizer – which corrects brightness and contrast during image processing, while improving skin tones in portraits by ensuring correct exposure for faces. Photographers can also enable additional noise reduction for shots captured at high ISO speeds.
Live view
For shooting situations where using the viewfinder is impractical – or where a tripod is used – users can switch to Live View mode, which displays the scene as a smooth, 30fps video feed on the LCD. An optional grid line and histogram display can be selected to help with shot composition and exposure. Two AF modes are available for use with Live View: Quick AF, which momentarily flips the camera's mirror to engage the AF sensor, and Live AF, which uses contrast information for compact camera-style focusing.
Software
The EOS 1000D is supplied with a comprehensive software suite that provides all the necessary tools for managing and processing images. This includes Digital Photo Professional (DPP), a powerful RAW converter that provides complete RAW image processing control. DPP also integrates with camera features such as Dust Delete Data and Picture Styles. The supplied Picture Style Editor software can be used to create custom Picture Styles for fine control over colour display. The camera also comes with EOS Utility, Image/Zoom Browser and Photostitch.