Canon announces Canon Pixma MG6120 and MG8120 wireless All-in-One printers with Intelligent Touch System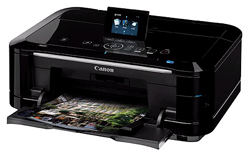 Canon Pixma MG6120
Canon has announced two new wireless All-in-One (AIO) printers called Canon Pixma MG6120 and MG8120. The printers have so called with Intelligent Touch System and have HD movie print. The touch system makes it easier to navigate and make your prints. In addition the printers feature technologies such as Auto Photo Fix II, Easy-PhotoPrint EX and Easy-WebPrint EX. Both Pixma printers has the ability to print via Wi-Fi.
There are not many differences between the Canon printers, but the MG8120 features a built-in Film Adapter Unit and has faster printing times. Read more about the printers in the Canon press release below.
The printer will cost about $300 for the Canon Pixma MG8120 and $200 for the Canon Pixma MG6120.

Press release:
CANON U.S.A. ANNOUNCES TWO NEW PIXMA PRINTERS WITH INNOVATIVE INTELLIGENT TOUCH SYSTEM AND FULL HD MOVIE PRINT
LAKE SUCCESS, N.Y., August 17, 2010 – Canon U.S.A. Inc., a leader in digital imaging, today announced the addition of the new PIXMA MG8120 and PIXMA MG6120 Wireless1 Photo All-In-One (AIO) printers with a new, ground-breaking Intelligent Touch System improving the overall user experience with new technologies that have not been seen before in desktop printers. In addition to the new Intelligent Touch System, these PIXMA printers feature Full High Definition (HD) Movie Print2 for capturing memorable moments and other upgrades which will improve functionality and print quality. The addition of these printers further solidifies Canon's commitment to providing award-winning, innovative products which limit the amount of time it takes to complete a project while maintaining the high quality users have come to expect from a Canon PIXMA product.
Designed with ease-of-use in mind, the new Intelligent Touch System is a game changer for overall printer usability. Consumers will find it easier and quicker than ever to navigate through menus and perform everyday tasks with back-lit touch sensitive buttons and a new light guidance system eliminating buttons not in use thus reducing opportunities for mistakes. In the early onset of touch technology, many products utilized resistive touch technology which relied on pressure being applied to the touch surface in order to get the desired result. The new Canon PIXMA MG8120 and MG6120 Wireless1 Photo AIO printers use the fast and responsive capacitive touch technology which picks up on electricity in the users body when a finger glides across the touch surface designed to provide for seamless navigation through menus and other desired commands. This same technology is utilized in many of today's popular smartphones and when combined with the light guidance system, consumers will be surprised at how tasks can be accomplished quicker than ever before.
The new Full HD Movie Print provides consumers with a new alternative for preserving many of those memorable moments which in the past may have been rather challenging to catch. When using compatible HD Canon EOS and PowerShot Digital cameras, consumers can print individual frames of movies captured from scenes such as a child blowing out a candle on their first birthday cake or of a couple dancing on their wedding day. The days of missing those special moments can now be considered a thing of the past. With Full HD Movie Print consumers can be confident the scenes captured on a camera whether through still or movie capabilities, can be shared for years to come. 3
"Canon has always been at the forefront of providing consumers with products that are not only of high quality but easy to use with an innovative design and user-interface," said Yuichi Ishizuka, executive vice president and general manager, Consumer Imaging Group, Canon U.S.A. "The addition of the new Intelligent Touch System along with Full HD Movie Print will provide consumers with a unique user experience which further separates Canon from the competition."
The new Canon PIXMA MG8120 and PIXMA MG6120 Wireless Photo AIO printers will also feature the recently upgraded versions of Auto Photo Fix II, Easy-PhotoPrint EX and Easy-WebPrint EX to further enhance the printing experience. Auto Photo Fix II, which helps correct common photo errors, has been improved with enhanced light-source recognition and color-cast correction resulting in an increase in the overall image quality of printed images. With Easy-PhotoPrint EX images can now be searched for and used from Flickr providing further flexibility to consumers interested in printing high-quality photos, albums and stickers from computers without having to launch an internet browser.
Easy-WebPrint EX (Windows® Only) 4 upgrades include a new Fit-to-One-Page button for easy printing of text and images from websites. This button is especially useful for applications such as printing a restaurant's various menus or multi-page articles. This new software will also provide for printing of multiple web page clips in a booklet format for easy handling and improved organization while images can be inserted into the print layouts allowing users to personalize their information even further.
PIXMA MG8120 Wireless Photo AIO Printer
When searching for a printer that generates photo-lab quality results in addition to having unique and easy to use features, look no further than the Canon PIXMA MG8120 Wireless Photo AIO printer. With six individual ink tanks, including one which is gray, utilizing the ChromaLife100 + ink system3, consumers can produce high-quality color in addition to black and white images at an industry leading maximum color resolution of 9600 x 2400 dpi5. For users interested in converting older slides and negatives to digital, a built-in Film Adapter Unit has also been included. The Advanced Media Handling options such as Auto Duplex copying, printing and a two-way paper feed can help reduce the amount of time it takes to complete a project as well. The overall speed in which a high quality borderless6 4" x 6" photo can be produced has also been improved over the prior generation, with one completed in approximately 20 seconds7. A must-have for any consumer interested in printing high-quality photos or important documents from the comfort of home, the MG8120 has an estimated selling price of $299.998.
PIXMA MG6120 Wireless Photo AIO Printer
The Canon PIXMA MG6120 Wireless Photo AIO printer not only provides high-quality results but is affordable as well. Similar to the flagship MG8120, this new printer features a gray ink tank for printing of high-quality black and white images along with color. The six individual ink tanks can produce an industry leading maximum color resolution of 9600 x 2400 dpi5. The 3.0-inch LCD screen and similar Advanced Media Handling features found on the MG8120 further add to the versatility of this new AIO printer. Capable of producing a high-quality borderless6 4" x 6" photo in approximately 20 seconds7, the MG6120 has an estimated selling price of $199.998.
As an added incentive, both printers are now 802.11n Wi-Fi certified which will allow for a faster network transfer rate. Wireless networks can be set up with the press of one button when using a Wi-Fi Protected Setup (WPS). Canon offers award-winning service and support online for all users looking to set up any of the new Wireless products at http://www.usa.canon.com/wirelesshelp. Here customers have access to video tutorials, FAQs, and helpful hints to assist in setting up a Wireless device.
With more and more people utilizing smartphones to capture images, the need for a mobile printing application is more important than ever. Canon has addressed this growing need to unlock these memories with the free Easy-Photo Print application which will allow for these images to be printed quickly and shared with friends and family. In the past, these memories would be trapped in the phone only to be shared when having the device in hand. Now, the opportunity is there for users of Android™ equipped mobile phones to unlock these moments with the Canon Easy-Photo Print for Android application available for download for free on the Android Market9. For Apple iPhone®, iPod touch® and iPad™ mobile device users, the Canon Easy-PhotoPrint for iPhone (iEPP) application is available for free on the App Store.SM
Canon CREATIVE PARK
Looking to extend creativity beyond just photos and documents? Consumers can try Canon Inc.'s CREATIVE PARK website at http://www.canon.com/c-park. The site offers free 3-D paper craft projects, scrapbooking templates and embellishments, novel greeting cards, and educational materials. As an added bonus with the purchase of select new PIXMA printers, including the PIXMA MG6120 and MG8120 Photo All-in-One Printers, consumers will be provided with exclusive printable content through CREATIVE PARK PREMIUM subject to meeting certain additional eligibility requirements10. This content includes post cards, albums, and many more projects including paintings by artists such as Norman Rockwell.
CANON iMAGE GATEWAY
CANON iMAGE GATEWAY is an exclusive online photography resource and service for registered owners of qualified Canon products. Camera users can upload and share photos and videos with friends and family if they have registered certain qualifying products via their Canon Account. Members also gain access to informative photography-related articles on topics such as macro shooting, portrait photography, printing tips and print projects to get the most out of their photos. Registered qualifying printer owners can use their photos to create greeting cards, calendars and much more with Print Projects! Members are provided with a wide array of helpful articles to enhance their experience with their Canon printer and create inspiring projects.