Brother P-touch PT-2730 labeling printer review / test by Trusted Reviews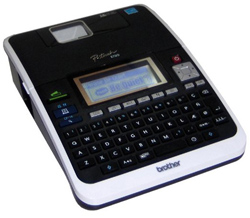 Brother P-touch PT-2730
The Brother P-touch PT-2730 is a labeling printer that targeted at professional uses and office environments. Trusted Reviews has tested it and it seems like the PT-2730 is pretty good.
Some key features for the Brother P-touch PT-2730:
-Tape sizes 3.5mm, 6mm, 9mm, 12mm, 18mm, 24mm
-Maximum print resolution 180 dpi
-16-character x 3 line graphical display
-Prints up to 7 lines of text on each label
-Select from 8 fonts, 10 type styles, and 20 frames
-Dimensions: 7.0″W x 9.4″D x 2.8″H
Trusted Reviews ends up giving the P-touch PT-2730 an overall score of 8 out of 10 possible points. The label printer scores highest on features where it gets almost a perfect score, a little lower on print quality and print speeds while it scores a bit lower on value. The printer makes labels of high quality and is easy to use. In addition the software that comes with the Brother printer expands your possibilities. One downside is the hefty price tag of the label cartridges, but if you can live with that this might be your label printer of choice.
Read the full review of the Brother P-touch PT-2730 labeling printer here.