Camera Armor updates their product line with redesigned ToughStrap and new Extreme weatherproof protective armor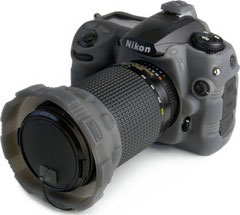 Nikon D200 SLR Camera Armor
Camera Armor has announced a product live of protective silicone skins that are designed for digital cameras.
The company has redesigned their ToughStrap system and have made "Extreme" weatherproof protective body armor for DSLR cameras.
You can buy a range of different products made by Camera Armor at the BH Photo shop.

Press release:
Camera Armor Announces Line of Protective Silicone Skins for Digital Cameras
Camera Armor will also showcase their redesigned ToughStrap system and offer a sneak peek of Extreme, weatherproof body armor for DSLR cameras
(LAS VEGAS – CES 2009, Hilton Hotel, Suite 2050) – Camera Armor, a leader in protective accessories for cameras and digital SLRs, announces their first line of compact protective skins for point and shoot digital cameras. The Compact Camera Armor skins are created with the same silicone material and standards as their line of protective skins for high-end DSLR cameras. This latest line in protective and functional camera skins will be showcased at CES in the Hilton Hotel, Suite 2050.
"As digital cameras become more advanced and mainstream, there has been an increased demand from consumers to keep the cameras protected from daily wear and tear," said Graeme Esarey, creator of Camera Armor. "It was a natural next step for Camera Armor to provide our unmatched protection to digital camera users – you won't find better protection on the market than our new Compact skins."
Camera Armor is extending their expertise in protective body armor to the new line of Compact skins. The protective silicone skins are custom fit for each model and provide complete shock absorbing protection. Unlike competitors, the Compact skins allow full access to all buttons and controls, including a swing away door for battery and SD card access and a Polycarbonate LCD protective shield. The Compact skins are engineered with a special grip texture to prevent accidental drops and a clear design allows the original color of the camera to show through. Camera Armor standards ensure that the protective skin will not lose its shape or fit over time. The Compact Camera skins, retailing for $14.96, are available now for the Canon SD1100 and Sony DCS-W120.
Camera Armor will also showcase the newly redesigned ToughStrap and SafeGrip system at CES. The ToughStrap secures the camera comfortably around the neck or shoulder, while the adjustable SafeGrip straps around the hand – guaranteeing security during shooting.
The new ToughStrap features:
* Stainless steel infused nylon webbed strap
* sturdy metal ring connectors
* heavy duty neoprene pad, which can rest around the neck or shoulder that adds extra comfort and support
* an adjustable length of 30 to 50 inches
The ToughStrap and SafeGrip retail together for $34.95. The SafeGrip can also be purchased separately for $14.95.
Camera Armor will also be offering a sneak peek at the latest in their line of protective skins for DLSR cameras. The Extreme is a weatherproof DSLR camera and lens polycarbonate case that allows access to all buttons, wheels, zoom and flash while shielding the camera from rain, sleet, snow and dust. Available Spring 2009, the Extreme features:
* weather sealed case
* internal rubber padding that provides full mechanical shock protection
* lens protection with two sizes of customized weatherproof lens armor to accommodate a wide range of wide and long zoom lenses
* Lens Transport End Cap seals and locks the lenses for full protection in transport
* a filter sealing system with standard anti-UV coated glass non-polarizing filter
* customized to fit Nikon D40x, D40, D60, Canon XSi(450D) and XS(100D)
All Camera Armor protective accessories are available for purchase at www.cameraarmor.us, where you can also find a retailer near you.