Two new IXUS / Powershot cameras from Canon – Canon Pwershot SD790 (IXUS 90) and Canon Powershot SD770 (IXUS 85)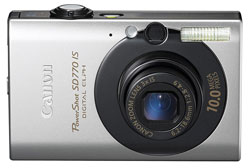 Canon Powershot SD770 (IXUS 85)
Canon today announced to new compact cameras in the Powershot SD (IXUS in Europe) series. The cameras are called Canon Pwershot SD790 (IXUS 90) and Canon Powershot SD770 (IXUS 85). They share the same 10 mega pixel sensor and have the same 3x optical zoom lens (35-105mm equivalent). The biggest difference between the cameras is the design and the 3″ LCD screen on the Powershot SD790 while the Powershot SD770 has a 2.5".
The SD770 ships in mid-April for $299 and the SD790 ships later this month for $349.



Press release:
All style, no shake: two new compact Digital IXUS cameras with IS
Amstelveen, The Netherlands, 13 March, 2008: Canon today strengthens its Digital IXUS range with the launch of two new 10 Megapixel models: the Digital IXUS 90 IS and Digital IXUS 85 IS. Both models feature Canon's lens-shift type optical Image Stabilizer (IS)for exceptional image quality, while expressing very distinct design styles. The solid, chiselled Digital IXUS 90 IS is enhanced by a powerful shape and seamless build; while the soft minimalism of the Digital IXUS 85 IS reflects a glimmering, understated elegance.
The two models share the core imaging prowess at the heart of Digital IXUS photography. In addition to their 3x optical zoom lenses with IS, the cameras feature enhanced auto focus performance for low-light shooting. Both cameras include Motion Detection Technology¹, which works in tandem with IS to reduce all kinds of blur, and Face Detection Technology¹ with Face Select & Track and Face Detection White Balance for accurate, natural-looking people shots in all situations. Bright, clear PureColor LCD II screens (3" Digital IXUS 90 IS, 2.5" Digital IXUS 85 IS) enhance user experience thanks to their wide viewing angle, high contrast easy-view displays, and glare-resistant coatings.
"The design versatility of Digital IXUS is clearly demonstrated by these two new models," said Mogens Jensen, Head of Canon Consumer Imaging, Europe. "These are cameras that enable users to express their individuality, both in the model they choose, and the images they make."
The Digital IXUS 90 IS and Digital IXUS 85 IS feature:
* Solid, chiselled design with flat control panel (Digital IXUS 90 IS)
* Rounded square design with bold details in piano key black or silver (Digital IXUS 85 IS)
* 10.0 Megapixel image sensor
* 3x optical zoom lens with optical Image Stabilizer (IS)
* Face Detection Technology with White Balance and Face Select & Track
* DIGIC III¹ with Noise Reduction Technology
* Automatic Red-Eye Correction in shooting and playback
* 2.5" PureColor LCD II (85 IS), 3.0" PureColor LCD II (90 IS)
* Optical Viewfinder (85 IS)
* Enhanced auto focus performs at up to 1-stop darker
* 19 shooting modes including new Sunset mode and My Colors photo effects
* Extensive movie options including VGA 30fps, Long Play and Time Lapse movie modes
* Optional accessories include Waterproof Case, Soft Case and High Powered Flash
* Easy printing with PictBridge and quick print order settings in playback mode³
Two designs, Two cameras, One Digital IXUS
Built to facilitate individual expression, these new cameras offer an evolution of two key Digital IXUS design strands. The Digital IXUS 90 IS takes the geometry of the Digital IXUS 75 and gives it a new sense of boldness and solidity. A flat key control panel enhances the camera's seamless feel, giving it the appearance of being forged from a single piece of metal. The Digital IXUS 85 IS softens the sharp minimalism of the Digital IXUS 70, for a more fluid feel, accentuated by bold lens ring and edging details in piano black or silver.
Exceptional optics
The Digital IXUS 90 IS and Digital IXUS 85 IS both feature a 3x optical zoom lens, allowing everything from landscape shots to close-ups and medium telephoto zooms. Exceptional image clarity and compactness of form are achieved thanks to the inclusion of Canon's UA (Ultra-high refractive index Aspherical) lens elements. The lens has a straight optical path for uncompromising image quality. Canon's lens-shift type optical Image Stabilizer (IS) is incorporated into both cameras, vastly reducing the effects of camera shake when shooting in low light conditions or at the end of the zoom. The IS system gives both cameras a 3 stop advantage, facilitating better images in dusky conditions. Improved low-light AF performance helps users take advantage of the benefits of IS. The AF is now able to achieve focus in 1 stop less light, so the camera obtains excellent results even further into the evening.
Bye-bye to blur – Motion Detection Technology
Activated in High ISO Auto, Canon's intelligent Motion Detection Technology works to eliminate the blur caused by subject motion and camera shake. When these are detected, the system provides an ISO boost between ISO 80-800 – counteracting motion blur to improve action shots and night snaps, without compromising shots where no ISO boost is needed. Combining inputs from Face Detection Technology, the optical Image Stabiliser, changes in scene brightness and changes from frame to frame, Canon's Motion Detection Technology is a comprehensive solution to motion blur.
Enhanced Face Detection Technology
Equally comprehensive is Canon's approach to Face Detection Technology. The Digital IXUS 90 IS and Digital IXUS 85 IS include Face Select & Track, which allows you to select a single face from a crowd of up to 35 detected faces. The optimum focus, exposure, flash and – in a new addition – white balance will then be set for that face, tracking the subject as they move around the frame.
Canon's Red-Eye Correction draws on Face Detection Technology in order to eliminate red-eye from photographs. Whenever a face is detected in a shot, red-eye is checked for. It can then be either removed automatically while shooting or in playback mode. New AF Point Zoom allows the photographer to magnify the AF frame when the shutter button is pressed half way, so that facial expressions can be checked before shooting.
As well as powering features including Face Detection Technology, Canon's DIGIC III image processor enables quick response times and fast buffering speeds. The processor also features advanced Noise Reduction Technology for excellent image quality at high ISO settings.
Intuitive ergonomics, easy menus
The Digital IXUS 90 IS and Digital IXUS 85 IS both feature high resolution PureColor LCD II screens. These screens offer a number of benefits over conventional LCD screens, including improved colour contrast for enhanced visibility, a wide viewing angle for easy shooting and instant image sharing, anti-glare coatings for viewing under bright light, and anti-scratch coatings.
The Digital IXUS 90 IS features a 3" screen, while the Digital IXUS 85 IS has a 2.5" screen. The Digital IXUS 85 IS provides additional photo framing options thanks to its Optical Viewfinder (OVF).
A host of features enable users to enhance their shooting options. Users can choose from a range of 19 shooting modes, including a number of Special Scene modes that automatically optimise camera settings for common shooting subjects. Both cameras feature Sunset scene mode for optimum capture of this tricky subject. Movie options include Long Play (LP) mode, which uses only half the memory of standard movies, and Time Lapse movie for the creation of fun and atmospheric accelerated film clips.
Several menu features also let users manipulate their images in-camera, without the need for computer software. The Trimming function offers image trimming to predetermined sizes. This function is integrated with Face Detection Technology – if several faces are detected in frame users can jump between faces to create instant trimmed portraits. The Image Resize function enables users to create smaller image files by reducing the number recording pixels in larger images. The original image can then be deleted in order to save space on the memory card, leaving the new file an ideal size for e-mailing and uploading to the web.
Comments