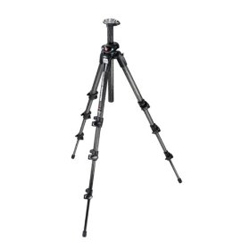 Manfrotto 190CXPRO4
Trusted Reviews has tested the Manfrotto 190CXPRO4 tripod. This Manfrotto tripod is one of the lightest tripods that Manfrotto got to offer and it is made out of carbon fiber. The tripod weighs only 1.34Kg and it is made from four sections. As the price for carbon fiber has become lower the Manfrotto doesn't come with a big price tag at about $325.
Trusted Reviews ends up giving the Manfrotto 190CXPRO4 an overall score of 9 out 10 points and this results in a "Trusted Reviews Recommended" award. The 190CXPRO4 gets a perfect score on build quality and almost perfect on value and design. The reviewer finds the tripod to be a perfect combination of lightness, portability and strength. It seems like Manfrotto has made a winner tripod with the 190CXPRO4.
Read the full review of the Manfrotto 190CXPRO4 tripod here.