Sony Cybershot DSC T77 test / review by Imaging Resource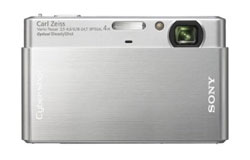 Sony Cybershot DSC T77
Imaging Resource has reviewed a 10 megapixel compact camera from Sony, the , which is the successor to the DSC-T70 camera.
Some key features for the Sony Cybershot DSC T77:
-10.1 megapixel sensor
-4x Carl Zeiss Vario-Tessar optical zoom lens (35-140mm, f/3.5-4.6)
-3″ LCD screen
-ISO sensitivity from 80 to 3,200
Imaging Resource ends up giving the Sony Cybershot DSC T77 a pretty good verdict as the camera has a very slim design and is capable of producing good pictures, but there are some set backs because the Sony camera has a bit of corner softness, chromatic aberrations and noise at higher ISO levels. If you are looking for a very slim compact camera the Sony Cybershot DSC T77 might be your choice.
Read the full review of the Sony Cybershot DSC T77 camera here.