Sony Cyber-shot DSC-HX9V travel compact camera test / review by Trusted Reviews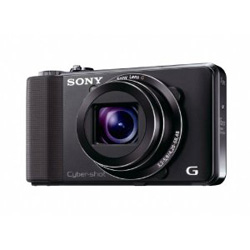 Sony Cyber-shot DSC-HX9V
Trusted Reviews has tested an interesting digital camera from Sony that is targeted at the travel market. The camera is called Sony Cyber-shot DSC-HX9V and comes with over 16 megapixels and a useful zoom range starting at 24mm and ending at 384mm.
Some key features for the Sony Cyber-shot DSC-HX9V:
-16.2 megapixel image sensor
-16x optical zoom lens (24mm – 384mm)
-3″ LCD screen
-1080p Full HD movies
-3D stills and 3D Sweep Panorama mode
-Backlight Correction
Trusted Reviews ends up giving the DSC-HX9V an overall score of 8 out of 10 possible points. The Sony camera scores highest on image quality and build quality, while it scores a little lower on design and features, and lowest on value for your money. This Cyber-shot is a bit expensive, but is a very good travel camera with its good image quality and lots of great features.
Read the full review of the Sony Cyber-shot DSC-HX9V travel compact camera here.