Pentax Optio S1 budget digital camera test / review by CNET UK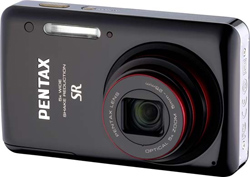 Pentax Optio S1
CNET UK has tested a budget camera from Pentax. The camera is called Pentax Optio S1 and comes with 14 megapixels, 5x zoom and it is able to record HD videos. Let us hear what the reviewer thinks about this cheap camera.
Some key features for the Pentax Optio S1:
-14 megapixel image sensor
-5x optical zoom lens (28-140mm)
-2.7″ LCD screen
-Able to capture 720p HD videos
-Face detection
-Smile capture
CNET UK ends up giving the S1 an overall score of 3.5 stars out of 5 possible. On the positive side the reviewer finds the Pentax camera to have a small design, it is easy to use, the zoom range is useful and the camera is of good value compared to the price tag. There are a few negative sides that keeps the camera from getting a higher score including small buttons on the camera body, poor video quality and the picture quality could have been better. Maybe it is worth shelling out a few more dollars to get better image quality?
Read the full review of the Pentax Optio S1 budget digital camera here.