Sony A-380 DSLR test / review by Camera Labs – budget friendly DSLR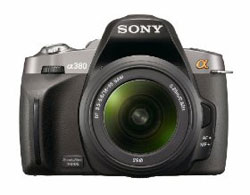 Sony Alpha 380
Camera Labs has reviewed the DSLR Sony A-380. This Sony camera feature 14.2 megapixels and image stabilization in the camera house. The A-380 seems to be targeted at photographers who want a budget friendly DSLR.
Some key features for the Sony Alpha 380 DSLR:
-14.2 megapixel image sensor
-built in image stabilization
-2.7″ LCD screen that is tiltable
-Eye-Start Autofocus
-supports memory sticks and SD/SDHC memory cards
-Live View
Camera Labs ends up giving the Sony A-380 DSLR a "Recommended" 82% rating. The reviewer likes the image stabilization, the live view function and how user friendly the camera is. There are some bad points like some noise at higher ISO levels and slow continuous shooting. The A-380 camera is also lacking video recording which is becoming a standard in DSLR cameras right now.
Read the full review of the Sony A-380 DSLR camera here.