Epson announces Epson Stylus Photo PX710W all-in-one photo printer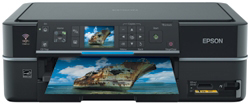 Epson Stylus Photo PX710W
Epson has announced two new photo printers. The first printer is called Epson Stylus Photo PX710W and is all-in-one hi definition photo printer with Wi-Fi capability.
Some key features for the Epson Stylus Photo PX710W:
-Support photo prints in 10x15cm, 13x18cm and A4 sizes
-Print and view pictures directly from memory cards
-6.3cm LCD viewer
-Only 150mm tall
The Epson Stylus Photo PX710W will be available in September 2009 and cost about £200.

Press release:
Epson introduces its new Epson Stylus Photo PX710W: the Hi-Definition all-in-one printer for the wireless home
18 August 2009 – Epson today announces the launch of the new Epson Stylus Photo PX710W.
A wireless, all-in-one, Hi-Definition photo printer perfect for any modern living environment, the PX710W produces photos that exceed lab quality thanks to exclusive and innovative Epson technology.
Paolo Marenghi, Product Manager, Epson UK, said: "With its Wi-Fi capability and contemporary design, the Epson Stylus Photo PX710W can be placed anywhere in the modern home. With integrated paper trays it is far slimmer than most printers standing at only 150mm tall. Whether you wish to print from a PC, Mac or iPhone[1], the PX710W will print any document you need and produce photos of outstanding quality. This product is an all-in-one photo printer that the whole family will enjoy using."
The Epson Stylus Photo PX710W is capable of printing great quality photos in approximately 10 seconds[2] and comes with an impressive array of features making it an ideal solution for all the family. Integrated wireless and Ethernet enables shared printing and scanning, auto-selecting A4 and photo-sized paper trays mean both plain and photo paper is always ready for use. The PX710W also has the capacity to print directly onto suitable CDs and DVDs.
Additional features in this high-end all-in-one photo printer include the ability to view and print photos directly from a memory card using the 6.3 cm LCD viewer, printing directly from PictBridge compatible digital cameras and optical character recognition (OCR) software for text scanning. An Epson Photo Paper Pack is also included, so you can start printing high-quality photos on Epson Premium Glossy Photo Paper in 10x15cm, 13x18cm and A4 sizes straight away.
The innovative greeting card feature allows you to produce a personalised 10x15cm card incorporating your own handwritten message within the photo without even switching on the PC. Perfect for party invites or 'Thank You' notes.
The Stylus Photo PX710W uses Epson's Micro Piezo™ print head technology which, when combined with Epson Claria Photographic Ink, ensures that images are sharp, vibrant and rich in colour. Photos will last for up to 98 years in a photo frame or over 200 years in an album and individual ink cartridges mean that you only need to replace the colour used, reducing the amount of money spent on ink. These individual ink cartridges are easily identified by the "Hummingbird" image and are also available in a convenient, cost saving multipack.
Epson Stylus Photo PX710W key features summary:
• Integrated Wi-Fi and Ethernet for shared printing and scanning
• Scan, copy, and print photos that exceed lab quality
• Compact and contemporary design to fit modern surroundings
• Auto-selecting A4 and photo paper trays for media flexibility
• Print fast 10x15cm photos in approximately 10 seconds3
• Personalise your CDs and DVDs by printing directly onto suitable discs
• Epson Claria Photographic Ink for glossy, long-lasting photos
• Save money with individual inks – only replace the colour used
• ENERGY STAR® qualified
• RRP including VAT, £199.99 – available 01 September, 2009
1. Print and Share application required
2. For more information please visit http://www.epson-europe.com