Sanyo Xacti VPC-WH1 HD waterproof camcorder test / review by Trusted Reviews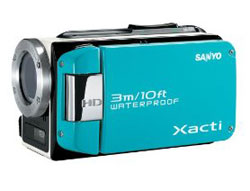 Sanyo Xacti VPC-WH1
Trusted Reviews has reviewed an exciting (if you to record videos under water) HD camcorder from Sanyo. The camcorder is called Sanyo Xacti VPC-WH1 and is able to record HD movies down to 3 meters.
Some key features for the Sanyo Xacti VPC-WH1:
-Waterproof down to 3 meters
-HD video (720p, 30 fps)
-30x optical zoom (43-1290mm)
-2.5″ LCD screen
-Face Chaser technology
-Uses SD/SDHC memory cards
Trusted Reviews ends up giving the Sanyo Xacti VPC-WH1 an overall score of 8 out of 10 points. The camcorder scores highest on value, while a little lower on image quality and features. It is able to take pretty nice videos when there are enough good light conditions, but when it gets a bit darker more grain become visible.
Read the full review of the Sanyo Xacti VPC-WH1 camcorder here.