Canon EOS 500D / Rebel T1i / Kiss X3 test / review by Digital Camera Resource Page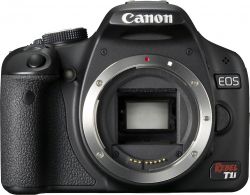 Canon EOS 500D, Canon Rebel T1i
Digital Camera Resource Page has reviewed the new DSLR camera from Canon. The camera is called Canon EOS 500D (also known asRebel T1i in North America and Kiss X3 in Japan) and features an impressive 15 megapixels and video recording.
Some key features for the Canon EOS 500D:
-15 megapixel sensor
-1080p HD video recording at 20fps
-3″ LCD screen with 920,000 dot resolution
-ISO sensitivity up to 12800
-HDMI output
Digital Camera Resource Page ends up giving the Canon EOS 500D a good review as the camera is able to take pictures of high quality even at higher ISO levels. The large LCD screen is also great with its high resolution and the camera has a lot of nice features.
The reviewer wasn't too fond of how the camera felt, but that is very individual. The movie mode is also a bit lacking with only 20fps when you record HD movies and there is no auto focus while recording video (a function the Panasonic GH1 have).
Overall you can't go wrong by purchasing the 500D, but there are other good competitor cameras on the marked that you also might want to check out.
Read the full review of the Canon EOS 500D DSLR camera here.