Samsung NV20 compact digital camera review by Think Camera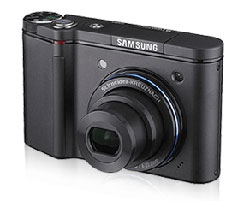 Samsung NV20 camera
Think Camera has reviewed the 12.1 mega pixel compact camera from Samsung, the NV20.
Some key features for the Samsung NV20 camera:
-12.1 mega pixel sensor
-2.5" LCD screen
-3x optical zoom lens from Schneider Kreuznach (f/2.8-f/5.2 34-102mm equivalent)
-ISO range between ISO80 and ISO1600 at full resolution (up to 3200 at 3 mega pixel)
-Image stabilization
-Face recognition
Think Camera ends up giving the Samsung NV20 an overall rating of 8 out of 10 stars. The camera is able to produce very good pictures, have an intuitive interface and have a very sharp lens. There is some problems with pictures when using ISO over 200 because the camera applies some pretty heavy noise reduction that is noticeable.
The Samsung NV20 seems like a nice camera. I especially like the design.
Read the full review of the Samsung NV20 here.