Olympus E-5 DSLR camera test / review by Photography Blog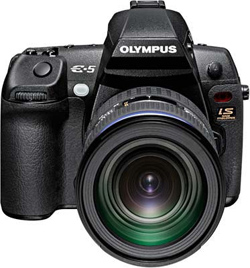 Olympus E-5
Olympus are known for making top class DSLR cameras that are weather resistant. Now they have released a successor to the E-3, a DSLR called Olympus E-5. Let us hear what Photography Blog has to say about this camera.
Some key features for the Olympus E-5:
-Weather-sealed body
-12 megapixel image sensor
-3″ 920k LCD screen
-Live View with Contrast AF
-HD video recording
-Shutter speeds of up to 1/8000
-Art filters
-HDMI port
Photography Blog gives the E-5 a very good review with an overall rating of 4.5 out of 5 stars and calls it "Highly Recommended". The Olympus camera scores highest on design, features and image quality, a little lower on ease of use while it scores lowest on value for your money. The blog claims that the E-5 is the best Four Thirds camera made to date. It produces images of excellent quality and is extremely well built, but it also comes at a very high price tag. It seems like Olympus are concentrating on pushing their Micro Four Thirds cameras so who knows if this is the last Four Thirds camera from them..
Read the full review of the Olympus E-5 DSLR camera here.