Panasonic HM-TA1 HD pocket camcorder test / review by Trusted Reviews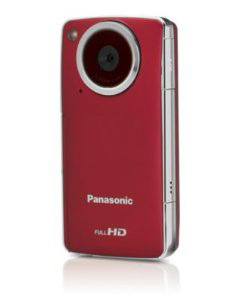 Panasonic HM-TA1
Trusted Reviews has tested a small pocketable camcorder from Panasonic. The HD camcorder is called Panasonic HM-TA1 and is able to record 1080p full HD video and 8 megapixel photos.
Some key features for the Panasonic HM-TA1:
-1080p Full HD video recording
-8 megapixel photos
-4x digital zoom
-Integrated USB terminal
-Available in black, aqua blue, violet and white
-Software that link directly to YouTube and Facebook
-Uses SD memory cards
Trusted Reviews ends up giving the TA1 a good review with an overall score of 8 out of 10 possible points. The camcorder gets a perfect score on value, a little lower on performance and design while it scores lowest on features. The Panasonic camcorder is sold a very low price tag and is the cheapest one in its class. If you need camcorder that fits in your pocket and do not need all kinds of features this might be your choice.
Read the full review of the Panasonic HM-TA1 HD pocket camcorder here.