Kodak ESP 7250 All-in-One printer test / review by About.com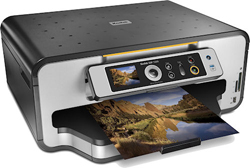 Kodak ESP 7250
About.com has tested the Kodak ESP 7250 All-in-One printer. This Kodak printer is able to print directly from smartphones and has wireless connectivity.
Some key features for the Kodak ESP 7250 printer:
-Smartphone printing
-Wireless connectivity
-Print speeds up to 32 pages per minute in black and 30 pages per minute in color
-Built-in duplexer
-2.4″ LCD screen
-Memory card slots
About.com ends up giving the Kodak ESP 7250 an overall score of 4.5 out of 5 stars. The printer makes prints of high quality and has useful features duplex and bluetooth. It also has ink refill which make it cheaper to run and has a separate tray for photo printing. The only downsides are slow print speeds and lack of Automatic Document Feeder (ADF).
Read the full review of the Kodak ESP 7250 All-in-One printer here.