Canon Digital IXUS 105 IS / Canon PowerShot SD1300 IS test / review by CNET UK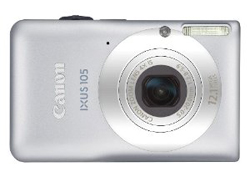 Canon Digital IXUS 105 IS
CNET UK has reviewed the Canon Digital IXUS 105 IS digital camera (also known as Canon PowerShot SD1300 IS in some markets). The IXUS 105 feature a stylish camera body, 12 megapixels and a wide angle zoom lens.
Some key features for the :
-12.1 megapixel image sensor
-4x optical zoom lens (28-112mm)
-2.7″ LCD screen
-ISO sensitivity 80 to 1600
-Weight 140g
-Size 91 x 56 x 21 mm
-Uses SD, SDHC and SDXC memory cards
CNET UK ends up giving the Canon Digital IXUS 105 IS an ok review with an overall score of 6.8 points out of 10. The reviewer finds the camera to have a great design, good controls and a useful zoom range. On the negative side they find it to have a high price tag compared to what you get and the picture quality is not top of the line. If you are after a camera that looks really good the IXUS 105 might be the camera you are looking for.
Read the full review of the Canon Digital IXUS 105 IS / Canon PowerShot SD1300 IS camera here.