DIWA Labs tests 5 Olympus Zuiko Digital lenses with Olympus E-3 DSLR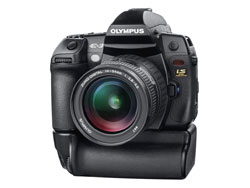 Olympus E-3 DSLR
DIWA Labs has tested five Olympus Zuiko Digital lenses on the Olympus E-3 camera body. Four of the lenses are from the Olympus' Pro Series while the fifth lens, the Olympus Zuiko Digital ED 18-180mm f/3.5-6.3, is from the standard series.
The Pro Series lenses tested are Zuiko Digital ED 50mm f/2.0 Macro, Zuiko Digital ED 11-22mm f/2.8-3.5, Zuiko Digital ED 50-200mm f/2.8-3.5 and Zuiko Digital ED 150mm f/2 with the EC-14 teleconverter.
DIWA Labs states that the Zuiko Digital ED 150mm f/2 is the best lens they have ever tested.
Read the tests of the Olympus lenses here.
The tests done by DIWA Labs are very technical so you need to read their test guide to understand the test results.