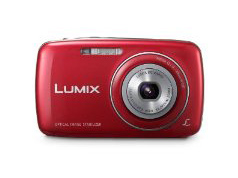 Panasonic Lumix DMC-S3
Photography Blog has tested a budget digital camera from Panasonic. The camera is called Panasonic Lumix DMC-S3 and comes with over 14 megapixels and lens that starts at 28mm which is pretty wide.
Some key features for the Panasonic Lumix DMC-S3:
-14.1 megapixel image sensor
-4x optical zoom lens (28-112mm)
-Optical image stabilization
-2.7″ LCD screen
-720p movie recording
Photography Blog ends up giving the S3 a "Recommended" rating and an overall score of 4 out of 5 possible stars. The Panasonic camera scores highest on value for your money where it gets almost a perfect score, a little lower on design, ease of use and image quality, while it scores lowest on features. The reviewer finds the price tag of the Lumix DMC-S3 to be very nice and it is able to produce pictures of good quality. In addition the camera has a stylish design and it is easy to use. If you are looking for a cheap and capable compact camera this might be your choice if you are not looking for too many fancy features.
Read the full review of the Panasonic Lumix DMC-S3 digital camera here.