Panasonic Lumix DMC-ZS10 / DMC-TZ20 digital camera test / review by Imaging Resource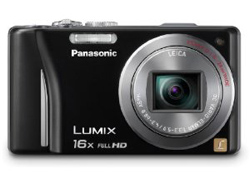 Panasonic Lumix DMC-ZS10
Imaging Resource has reviewed a new compact digital camera from Panasonic with built-in GPS function. The camera is called Panasonic Lumix DMC-ZS10 (known as DMC-TZ20 in some markets) and also has over 14 megapixels and nice wide angle zoom lens starting at 24mm.
Some key features for the Panasonic Lumix DMC-ZS10:
-14.1 megapixel image sensor
-16x optical zoom lens (24-384mm)
-Nano Surface Coating Technology
-Optical image stabilization
-3″ touchscreen LCD
-Built-In GPS Function
-Able to record full-HD 1920×1080 60i videos
Imaging Resource ends up giving the DMC-ZS10 a recommended rating. On the positive side the reviewer finds aspects such as a useful zoom lens, GPS, large touchscreen and it is able to record full HD-movies. There are also some negative points including not the best image quality, poor battery life, the touchscreen can be hard to use and no support of RAW. If Panasonic had worked a bit harder (or used another type of image sensor) on image quality this camera would probably have scored higher. We hope that Panasonic uses a bit more time on image quality with their next camera in this series.
Read the full review of the Panasonic Lumix DMC-ZS10 / DMC-TZ20 digital camera here.