Canon PowerShot D10 test / review by Photography Blog – waterproof to 10 meters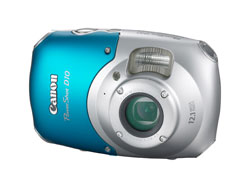 Canon PowerShot D10
Photography Blog has reviewed the though Canon PowerShot D10 compact digital camera. This camera is able to withstand depths of 10 meters and lots of other rough features. Combined with a 12 megapixel sensor and a 3″ LCD screen this could be a winner camera for outdoor photographers.
Some key features for the Canon PowerShot D10 :
-waterproof to 10 meters
-freezeproof to -10 C
-shockproof to 1.22 meters
-dust protection
-12.1 megapixel sensor
-3x optical zoom lens (35 – 105mm)
-optical image stabilization
-2.5″ LCD screen
Photography Blog ends up giving the Canon PowerShot D10 a 4 out 5 stars rating. The camera got the usual Canon quality and is able to take good pictures.
The only downsides are a smallish LCD screen and bit short zoom range, but over all this seems like a good outdoor compact camera.
Read the full review of the Canon PowerShot D10 camera here.

Comments