Canon launches PIXMA Pro9500 Mark II – 14 inch A3+ professional inkjet printer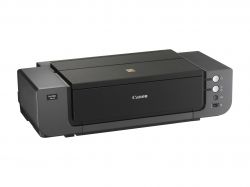 Canon PIXMA Pro9500 Mark II
Canon today announced two new printers. One of them is called Canon PIXMA Pro9500 Mark II and is a 14 inch A3+ professional inkjet printer.
Some key features for the Canon PIXMA Pro9500 Mark II:
-4800 x 2400 dpi resolution
-A3+ and 14" wide professional inkjet printer
-16 bits per channel printing and dedicated monochrome printing
-Ambient Light Correction
The Canon PIXMA Pro9500 Mark II printer will be available in May 2009 and cost about $849.

Press release:
Amstelveen, The Netherlands, 25 March 2009: Canon today announces a powerful new tool for professional photographers to create gallery-quality images for exhibition and sale. The PIXMA Pro9500 Mark II is a versatile, 10-colour pigment inkjet printer, capable of producing outstanding, long-lasting prints up to A3+ size or 14" wide.
Images as they were intended
For exceptional colour accuracy and gamut, the PIXMA Pro9500 Mark II uses a 10-colour pigment based single ink system as standard, including matte black and photo black, allowing photographers to print on gloss and matte media without the need for swapping ink tanks.
The right media – for any image
Finding the correct print media is crucial in turning an image into a saleable product. To maximise potential profit, the PIXMA Pro9500 Mark II prints to a comprehensive range of Canon and non-Canon medias. Stunning, high-quality prints can be printed onto Canon high gloss medias without bronzing or gloss differential; other supported Canon media includes Semi-gloss, Matte Photo Paper and Fine Art medias.
The PIXMA Pro9500 Mark II supports ICC profiles for many specialist medias. These include Baryta types, canvas, and numerous Fine Art medias from leading brands such as Canson, Hahnemühle, Innova, Moab, Somerset, Crane, PCM and Pictorico. For additional flexibility you can create custom ICC profiles, using Canon's Colour Management Tool Pro 2 software with selected X-Rite colour spectrophotometers.
The addition of 16 bits per channel print capability – with 276 trillion possible colours – offers outstandingly smooth tonal gradations in both colour and monochrome prints. Dedicated monochrome inks minimise problems such as colour casting, and allow photographers to reproduce a smoother range of neutral and grayscale tones.
New for the PIXMA Pro9500 Mark II is an Ambient Light Correction feature using Canon Kyuanos technology*. Users can select the type of lighting under which a print will be displayed; the colours in the final print are then automatically adjusted to ensure that the displayed result looks just the way the photographer intended.
Prints that last
Print longevity is the key to selling or showing your images with confidence. The PIXMA Pro9500 Mark II uses Canon LUCIA pigment inks, which are specially designed to deliver long-lasting prints that retain their vibrancy for generations.
Designed for working photographers
Professional photographers can integrate the PIXMA Pro9500 Mark II directly into their workflow by using the included Canon Easy-PhotoPrint Pro plug-in, which allows printing directly from Adobe Photoshop and the supplied Adobe Photoshop Elements software**. Canon EOS users can use the plug-in to print RAW files directly from Canon Digital Photo Professional software.
The PIXMA Pro9500 Mark II is made to accommodate the rigours of a professional photographer's workload. Its sturdy design – built around a rigid 1.6mm thick steel chassis – endures heavy usage to deliver reliable, consistent performance.
"The PIXMA Pro9500 Mark II is for photographers who are serious about exhibiting and selling their images," said Mogens Jenson, Head of Canon Consumer Imaging Europe. "Even on high gloss medias, results remain consistently stunning."
Key features: PIXMA Pro9500 Mark II
A3+ and 14" wide professional inkjet printer
10 Single Inks
Lucia Pigment Inks for image longevity
Exceptional glossy media printing
Striking neutral monochrome prints
Archival prints on Fine Art media
Adobe Photoshop Elements & Canon Easy PhotoPrint Pro Plug-In software supplied
16bits per channel photo printing
Ambient Light Correction feature
Wide range of third party media supported
Flat media path
DVD/CD Direct Printing
The PIXMA Pro9500 Mark II is bundled with the following software:
Canon Easy-PhotoPrint Pro – advanced imaging plug-in for Adobe Photoshop CS/CS2/CS3/CS4/Elements 6.0 and Canon Digital Photo Professional 2.1 or later, allowing PIXMA Pro to be seamlessly integrated into the imaging workflow. Features include:
RAW image printing (from Canon Digital Photo Professional and Adobe Photoshop Elements 6.0)
Direct access to ICC colour profiles
Monochrome mode, for printing colour data in black and white, with rich gradation and without colour casts
Ambient Light Correction feature for accurate colour rendition under different lighting conditions (available only on systems running Windows Vista)
Adobe Photoshop Elements 6.0 – powerful, easy-to-use photo editing software which allows users of non-Canon EOS D-SLR cameras to convert and print RAW files.
Canon Colour Management Tool Pro*** – create custom ICC profiles easily with select X-Rite spectrophotometers
Canon Easy-PhotoPrint EX – fully integrated user-friendly software for photo printing and creative projects, such as calendars or photo albums
CD-LabelPrint – simplifies printing directly onto inkjet printable CDs and DVDs.
Compatibility
The PIXMA Pro9500 Mark II is compatible with Windows Vista, Windows XP, Windows 2000 and Mac OS X 10.3.9 to 10.5.
* See Technologies Explained.
** Canon Easy-Photo Print Pro is compatible with Adobe Photoshop (CS, CS2, CS3, CS4), Canon Digital Photo Profession 2.1, and Adobe Photoshop Elements 6.0 (included)
*** Only available as download from the Canon Europe Website