Canon announces Speedlite 270EX entry-level flashgun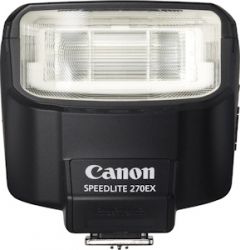 Canon Speedlite 270EX
Canon has announced a new entry-level flashgun today. It is called Canon Speedlite 270EX and replaces the 220EX model. The new Canon Speedlite 270EX is smaller and more powerful, and has a 90 degrees tilting head.
Some key features for the Canon Speedlite 270EX:
-90 degrees tilting zoom head
-guide number of 27 meters
-3.9 seconds recycling time
-uses two AA-batteries
-compatible with all recent Canon cameras
It is not known when the Canon Speedlite 270EX flashgun will hit the marked or how much it will cost.

Press release:
Amstelveen, the Netherlands, 25 March, 2009: Canon announces the launch of the entry level Speedlite 270EX, an enhanced flash designed for EOS and PowerShot users. Replacing the popular Speedlite 220EX, the Speedlite 270EX is aimed at photographers wanting to expand their flash photography beyond the built in flash and those who want a small: pocketable flash unit to complement their EOS-1D or EOS 5D series. The compact Speedlite 270EX builds on the success of its predecessor, with more power than usual for its class and size.
The Speedlite 270EX includes a host of new features not available with a built-in flash that push the boundaries for the entry level flash market. These include the addition of a zoom head, ensuring efficient light distribution and bounce flash head, enabling light from the flash to bounce off a ceiling to produce pictures with more flattering lighting with softer tones and depth. Improved circuitry offers near silent recharging and enables similar recharging times as its predecessor, despite being powered by just 2 AA batteries.
Key Features include:
High power flash with a maximum guide number 27 m
Fast, silent recycle times
Manual flash output (settable via camera menus)
Speedlite controllable with compatible camera's menu
Zoom head
Bounce flash head